With friends and relatives, coming to Huong Sen to enjoy hundreds of delicious dishes in a spacious space is pleasant and equally cozy.
HUONG SEN BUFFET PRICES: (From May 8, 2020, to May 31, 2020) 
Buffet prices from Monday to Friday: 
At noon:

319,000 VND

/ pax
In the evening: 339,000 VND / pax
Saturday & Sunday Buffet Price: 
At noon:

339,000 VND

/ pax
In the evening: 350,000 VND / pax
ATTENTION: 
For groups of 20 or more people must deposit a reservation beforehand. 
Note:
Buffet prices are subject to taxes and beverages, the above rates are applied to adult buffet rates. For children:       
Children under 1.0m: Free.
Children from 1.0 m – under 1.3 m: charged at 50% adult rate.
Children above 1.3m: Calculated as an adult.
If you bring drinks outside to the restaurant, please pay a charge of bringing outside drinks, enjoy the drinks under the provisions of the restaurant and sign a commitment to ensure the quality of food safety of the beverages brought. 
You do not bring food from outside to the restaurant and vice versa.
On this occasion, Huong Sen added new dishes to the menu such as Tempura fried shrimp, grilled nails grease, Chaozhou pig ear and new types of Salad.
Note: If you have birthday and delegation of 15 adults or more, you will be given 01 birthday cake and birthday music.
Too many attractive things? Waiting for anything else, pick up the phone and call Huong Sen hotline to book now: Hotline: 0904 988 999
For reservations or other questions, please contact Huong Sen via:
Introduction to Seafood Buffet of Huong Sen Restaurant
Huong Sen is the leading seafood buffet restaurant in Hanoi that commits to 100% food quality with the natural origin, no health additives, all the food is checked through the careful process. The restaurant strictly complies with the standards of the Department of Food Hygiene and Safety.
Just come and feel the difference. Ensuring the health benefits of customers is the guideline and business philosophy of Huong Sen Restaurant.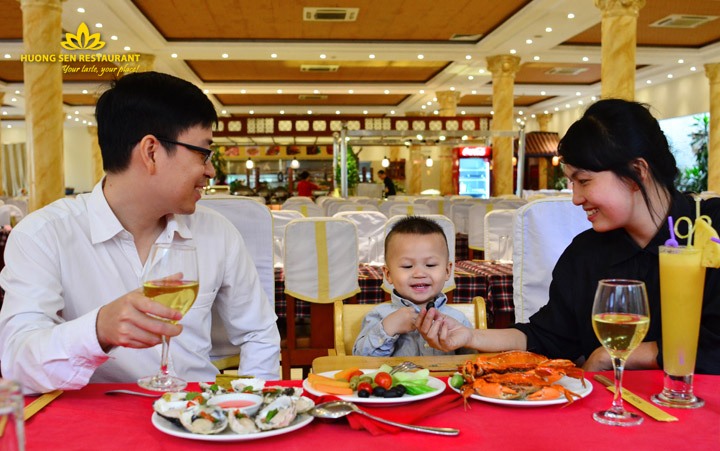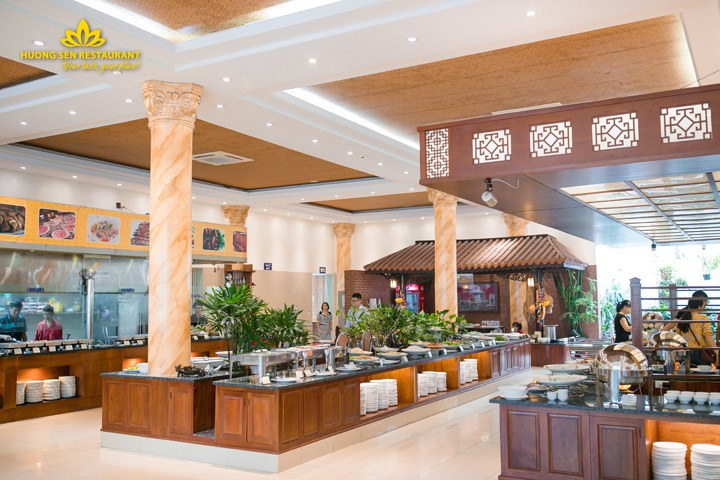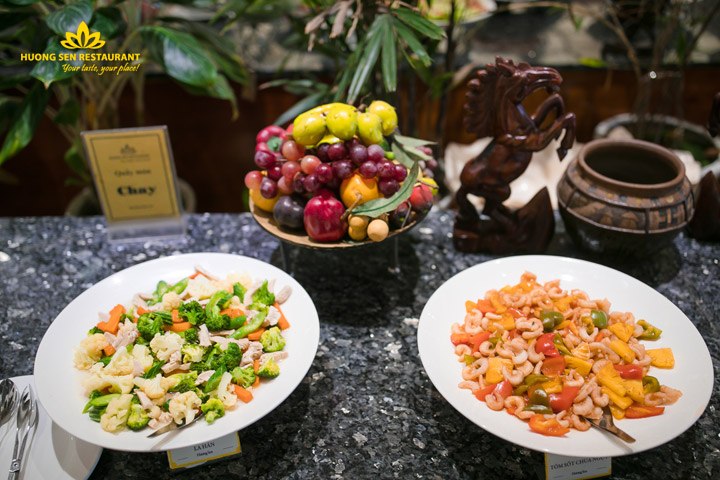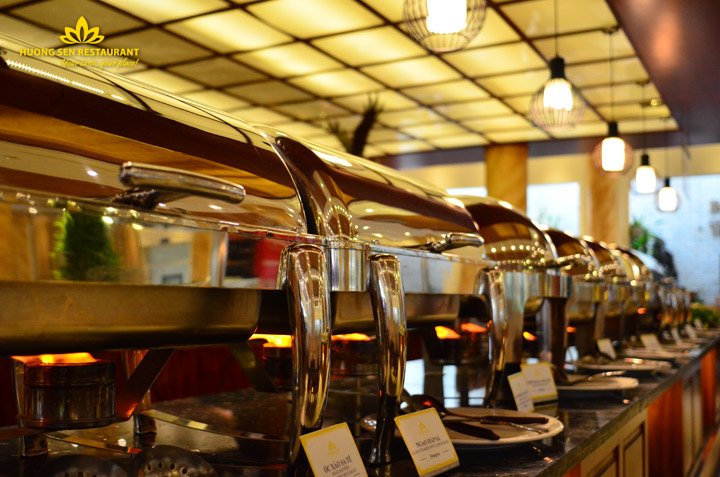 In the field of high-quality seafood buffet in Hanoi, placed among few other high-quality restaurants with the most luxurious space in European style, Huong Sen restaurant has been the destination of many guests of the company, food lovers, and families that want to enjoy delicious food in a modern space.
Come to Huong Sen Restaurant with family, relatives to enjoy seafood cuisine prepared by the chef with more than 20 years of experience working in 4 and 5-star restaurants. The restaurant is famous for Sashimi Salted Norwegian Salmon, Grilled Salmon Salad, Grilled Beef Thighs, Brazilian style pork tenderloin with sweet pineapple. These are just some of the dishes. There are more than 140 high-quality dishes of seafood buffet at Huong Sen Restaurant, but the menu is just not enough to satisfy.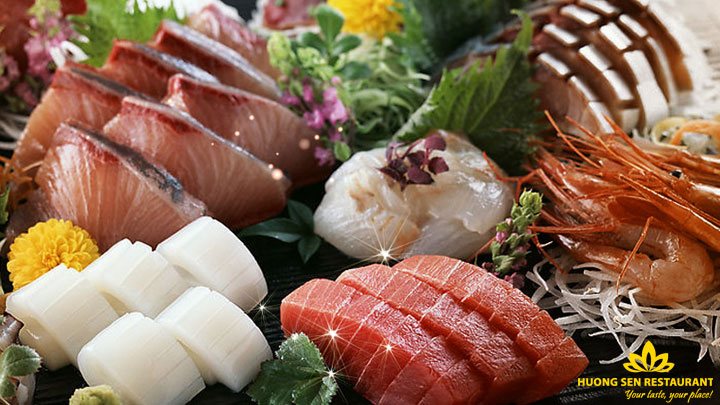 Big and fresh crabs selected from the top chefs of Huong Sen restaurant promise to bring all guests new culinary experiences as well as different feelings in each white fiber fragrant crab meat.
Come to Huong Sen, you will be able to choose the fresh seafood in a luxurious space and class designed in the pattern of classical European architecture with a capacity of up to 600 guests. Not only for the quality of the dishes, a special thing in Huong Sen is that many customers appreciate its professional, enthusiastic and caring staffs.


Some special dishes of Huong Sen:

The seafood dishes are attractive
Sea crab sautéed cellophane noodles
Oyster grilled with oil and scallion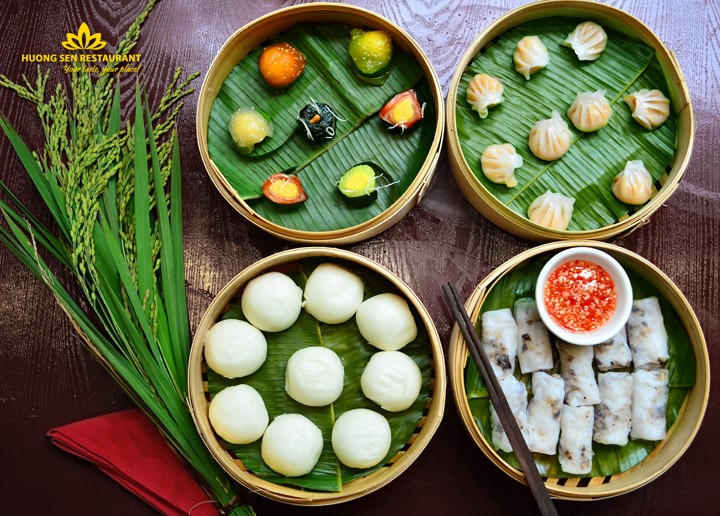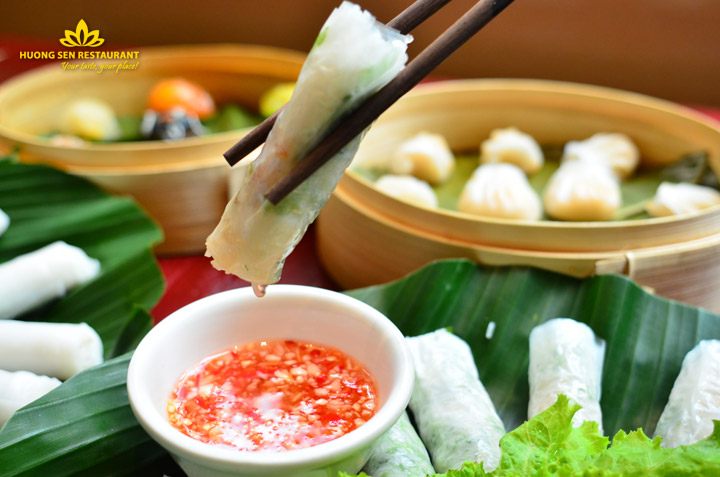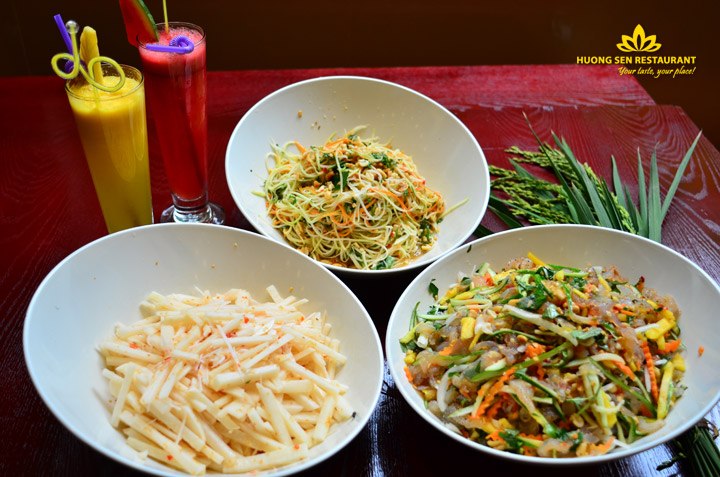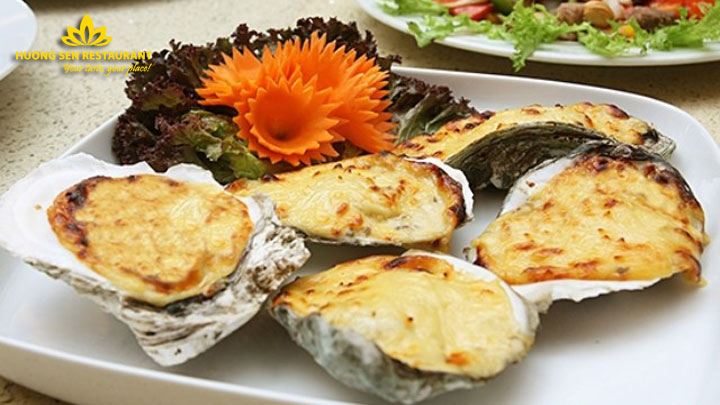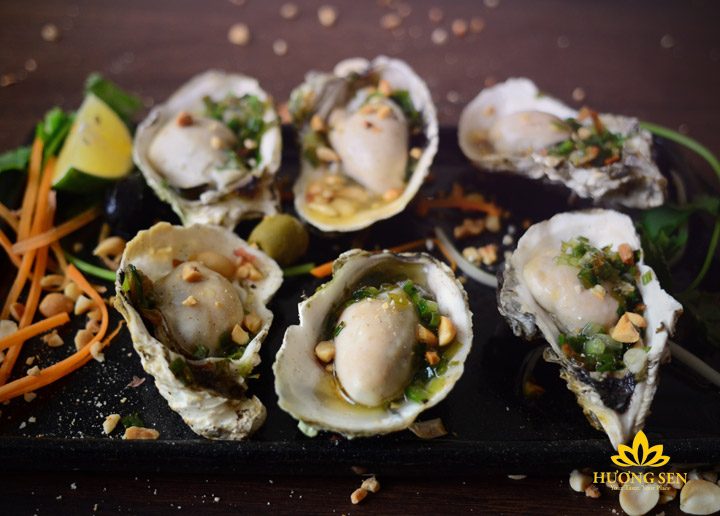 Oyster grilled with oil and scallion
Small crabs roasted with salt
Snail steamed with lemon leaves
Fresh oyster sashimi
Fresh salmon sashimi, fresh tuna sashimi
Buffet lunch, dinner with more than 140 most advanced dishes are processed by the professional and experienced chefs. With a very large number of dishes, they are all processed by chefs. The dishes are carefully selected and processed from the selection of ingredients. The culinary experiences are from the bold Vietnamese style dishes such as noodle soup, pho rolls … to other extremely special and famous dishes such as Norwegian salmon, American beef. With their own secret, the chefs at Huong Sen always ensure to bring fresh and nutritious dishes to the customers while still keeping the taste of the sea "salty sardines" in each fiber.
Come to Huong Sen to enjoy and feel. This will definitely be an interesting discovery for those who love seafood cuisine with unique and attractive dishes.
And to meet the needs of customers, Huong Sen has added to its buffet menu a lot of unique dishes, delicious but not less beautiful. The price does not change for the best enjoyment.
Sincerely thank you!